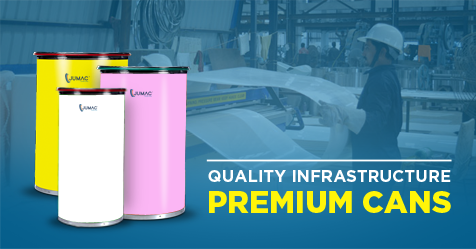 Quality Infrastructure in Jumac ensures premium deliveries at the Best Price
In the long list of strengths that have contributed to the immense success of Jumac, our leading brand, across the world in a short span of time, our quality of infrastructure plays a key role in determining the current position of market leadership in the spinning cans category. Right from the beginning of the eventful journey, we have focused on developing superior infrastructure as it allows the product to acquire a winning edge. The outcome of our  foresight has been more than satisfactory to the core. The impressive results in terms of pricing, reach and quality narrate the story of our brand that has truly evolved on account of sound infrastructure.
Excellence
As a reputed global name in spinning can manufacturing, Jumac is committed towards delivering world-class products through superior manufacturing facility and process driven approach. Scientific innovation and continuous improvement are accorded priority in every possible way. Customer satisfaction and working under an effective quality management system that meets global standards reflects our resolve to deliver quality products that ultimately win the trust of clients who remain loyal to the brand in the long term.
Innovation
Innovation is a top priority with us at Jumac. We are continuously striving towards innovating new products in our industry to enable our clients to increase productivity at a lesser cost. Be it springs, casters or cans, we always come up with something new to offer and this makes us dynamic – agile to change taking place in the world of technology. As we have the proper infrastructure to incorporate this transformational change, we are able to evolve faster than one imagines.
Strengths
We manufacture HDPE spinning cans of international standards and this explains our strong presence in the overseas market. We make products that are highly durable, totally anti-static and with anti-fiber rupture. The tensile strength is high to ensure longer life. All accessories and parts of the spinning cans carry proof of superior build.
As we have invested heavily in the installation of the best plant and machinery for quality production of spinning cans, we are able to offer the best price for the product. We have the best infrastructure to create quality products and sell them in large numbers – at the right price. Had it not been so, there would be a higher cost of production and our potential to keep the price reasonable would not have been a reality.
Control
Jumac takes pride in its most modern state-of-the-art manufacturing plant. The entire range of our products and accessories are made in-house. This enables full control and monitoring of the production process. Having understood the importance of infrastructure in manufacturing the best spinning cans, we have always paid attention to this aspect and made no compromise in this regard.
Jumac has a world-class state-of-the-art facility with the in-house capability of manufacturing all products and accessories. This enables us to ensure superior quality delivery at the best prices. Our machines are calibrated regularly and always kept up and running. From manufacturing to delivery, our employees are trained with the best practices in global manufacturing to ensure no compromise of quality in the product in the entire process.
Be it sheet extrusion plant, ultrasonic welding machines, vacuum forming machine, molding machines and other ancillary machines such as a dryer, humidifier, cooling tower, grinder and color mixer, the best quality machines are in place to ensure top quality spinning cans at the best price.