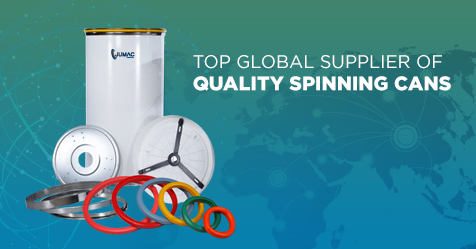 Jumac is Truly a Top Global Supplier of Quality Spinning Cans
Being recognised as a top exporter of spinning cans from 1999 onwards is a matter of remarkable achievement for Jumac. As a leading spinning can manufacturer in India, it is driven by the mission to deliver quality cans to the jute and textile industry.
With superior quality being its core belief, Jumac takes pride in its state-of-the-art manufacturing plant. The entire range of products and accessories is made in- house as it enables complete control and monitoring of the production process. Over the years, Jumac has established its presence in five continents and more than 18 countries. This global acceptance on account of its stringent quality benchmark makes it a top global supplier of quality spinning cans. It shares values of the nation's "Make in India" initiative and leverages on skill, scale and speed to create a roadmap for tomorrow.
Global Quality
Jumac – a globally reputed Indian brand in spinning can manufacturing – stands committed to its objective of delivering world-class products through superior manufacturing facility and process driven approach. Scientific innovation, regular improvement, customer satisfaction, and adhering to an effective quality management system are some key measures to meet the global standards of excellence.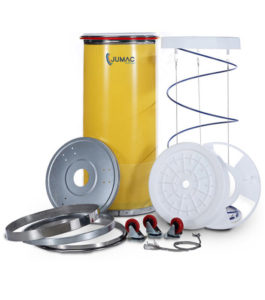 Global Innovation
Excellence and leadership in the segment are possible only if innovation is accorded priority. New products with innovation enable clients to increase their productivity at a lesser cost. As Jumac offers something new to clients, it is able to sustain its position as a top global supplier of quality spinning cans.
Global Infrastructure
Jumac ensures superior quality delivery at the best prices as everything is made in-house. The machines are calibrated regularly and always kept in perfect running condition.From manufacturing to despatch, people are trained to follow the best practices in global manufacturing to ensure no compromise in terms of product quality.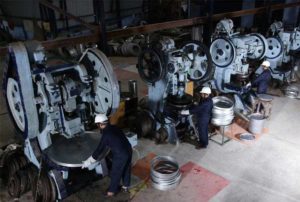 Global Presence
Jumac started exporting its products to countries like Bangladesh, South Africa and Egypt in 1999. It expanded its global reach by creating its presence in new markets such as Vietnam, Indonesia, Pakistan and Turkey in 2012. This shows how rapidly it grew in various countries in just a decade. It continues to make further strides and explore new opportunities for growth across the world.
Global Events
Jumac regularly participates and meetsits patrons at various global events. This practice has been followed for many years now. It leads to a better presentation of what Jumac represents and gathers mega-success for the trusted brand. ITM 2018 was a recent success story held in Istanbul at TUYAP Fair Convention and Congress Centre. Jumac – a key participant at DTG, Dhaka International Textile and Garment Machinery Exhibition – showcased its products at this fair held in Bangladesh in early 2018. Last year, Jumac participated at CAITME 2017 in Tashkent, Uzbekistan. The Central Asian International Textile Machinery Exhibition in Tashkent, Uzbekistan was a grand success for Jumac and its agents based there. In 2016, Jumac participated at Indo Intertex, Jakarta and in Igatex Lahore in Pakistan. Massive response opened new markets for Jumac.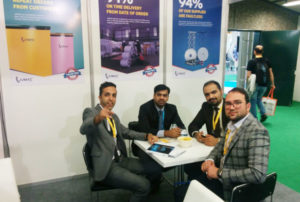 Global Patrons
Top spinning mills world wide prefer Jumac. The same reality prevails in the domestic market. For decades, it has been the preferred partner for the supply of spinning cans to the thriving Indian textile industry. Some key clients include RSWM, Nitin Spinners, Banswara Synthetics, SRM Spinners, Visaka Industries, Damodar Industries, Pee Vee Textile, Morarji Textile, Raymond UCO, Pratibha Spinners, Gurulaxmi Cotex, Wearit Group, Mahima Purespin, Maral Overseas, Auro Sinning, Arisht Spinning, Vardhaman Group, Vardhaman Fabrics, Indian Acrylic, Ramkrishna Syntex, Anna Bhau Aajara, Bhagwati Cotton, Ganga Acrowool.
As a top supplier of quality spinning cans to the leading spinning mills across the world, Jumac has never compromised on its quality standards. It has always maintained complete control over quality and tried to improve it further. This has enabled it to nurture long-lasting relationships worldwide. Clients from Vietnam include reputed names like Vietnam Textile & Garments, Eight March, Phu Than & Phu Thanh, Vietnam National Textile, Phu Group, Phu Naam, Hue Textile, Phu Mai, Phu Gia, Choongnam, and Hoa Tho Thang. Clients based out of Indonesia include esteemed names like PT Indoeverest, PT Silverkis, PT Sugih Brothers, PT Unitex Group, PT Actem group, Sritex Group,Primayudha, Insang Sdang, Budi Texindo. Clients from Thailand are Chiempatana, Nanyang, Indo Thai, Thai Kurabo, and Karan Textile. From Turkey, there are clients like Sire Textile, Tayteks and Le Herdera from Mexico. Having them as prestigious clients is a clear indicator of how popular Jumac has become the world over.
Global Reach
Jumac has established a wide and effective network of agents across all countries where it has spread its presence. As leading associates dealing in spinning and textile brands, they are connected to top spinning mills and this helps coordinate with potential business associates to generate successful negotiations. This agent-driven approach has led to a faster global expansion of Jumac.